Lithuania ethnocultural regions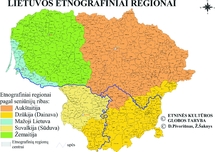 Aukstaitija
Aukstaiciai name is first mentioned in 1322, when they mentioned in Gediminas agreement with the Germans. This is the initial nuclear ground of Lithuania state, where in the eleventh century Duchy of Lithuania established. There are east Aukstaitija and dir. West Aukstaitija (first administrative cultural center now is proposed to form in Utena, and the second - in Panevezys). In Aukstaitija partially are preserved some of the ancient Balts ethnic structures (Dainava, Selo, Zemgale, and etc.) ethnocultural heritage. Aukstaitija is very rich in the broad sense of dialects, traditional customs, traditional architecture, lifestyle and so on historical ethno-cultural diversity of the heritage. In ancient times, people lived in freely set out farmsteads or street villages where houses were lined along the road and farm placed in the back of the yard. Even today, in Aukstaitija National Park, you can see these exotic villages.
Aukstatija from long history is well knonw as Brewers edge. In Birzai you can visit the Beer Museum, and taste beer, in three breweries located in the city. Another city of this region - is Utena, it has a large brewery "Utena beer". It is interesting drinking beer, or extremely rich nature, awarded this land the numerous of lakes, forests and mountains, has led a funny way Aukstaitija people.
Dzukija
Dzukija - is one of five Lithuanian ethno-cultural regions. Dzukija includes Alytus county, city and region, Druskininkai, Lazdijai, Varena, Vilnius county, town and district, Salcininkai Svencioniai and Trakai districts' municipalities. Assigned to this region also Kaunas county Prienai municipality Birstonas, Jieznas and Stakliskes wards.
Dzukija name is a relatively new, and only appeared in the nineteenth century It came from people dzukininkai dialects, which uses "c", "dz" instead of "t", "d", and other dialectal features. Dzukija edge name - is Dainava. For the first time as "terra Deynowe" (Dainava land) it is mentioned in 1253 in King Mindaugas letter for the Livonian Order.
Dzukija is a wooded area and is famous for its mushrooms. This region has a very beautiful part of the Lithuanian countryside. It is characterized as a small but distinct hills area, large dry forests (mainly pine) areas. In Dzukija territory there is the largest forests area - Dainava Forest, which occupies as much as 135 thousand ha. Medininkai Upland is the highest place in Lithuania - Aukstoji hill, seeking 293,84 m. In the region there is the largest swamp in the Republic of Lithuania - Cepkeliai marsh occupies 5,858 hectares place.
The Residents of Dzukija from a long time is very melodious. It is said that Dzukai has the most songful song, the sadest song and their lament is the most pathetic. In their ancient tissues there are often shimmering leaves, flowers, reflecting the beauty of the environment.
Suvalkija / Suduva
Suvalkija / Suduva - is the region on the left bank of the Nemunas, covering the major part of Lithuanian Uznemune (Marijampole county, Calvary, Kazlu Ruda, Marijampole Fork and Vilkaviskis districts, Kaunas county, Kaunas district Southern Region and the western part of the debate), that's wy called Uznemune.
Suduva people from all current Lithuanian ethnic populations were mention in written sources is the earliest - they were mention in the second century scientist and traveler Claudius Ptolemy "Geography". Suduva people business from the first millennium beginning was and is agriculture. In Suduva earlier than in other places of Lithuania was abolish serfdom, fertile soil conducive to farming and diligence let for Suduva people to be the richest people in the region of XIX - XX centuries between Lithuanian farmers. In nineteenth century end in the west of Suvalkija used kapsai and zanavykai adjectives formed the basis of the current generic (literary) Lithuanian language. The region is famous for always wise human beings among them John Yablonsky - creator of the Lithuanian language and Lithuanian national anthem author - Vincent Kudirka. Suvalkieciai are famous not only for thei intelligence but also for the economy. About their economy there are a lot of jokes.
Zemaitija
Zemaitis name was first mentioned in the thirteenth century begining in Volyn chronicle, there is referring about 1215 events. Zemaiciai lifestyle is always very different from other sectors of the population of ethnographic Lithuanian Culture. Especially popular was pottery. With trade prevalence and abundance of work Zemaitija potters surpassed all other regions of Lithuania. Vieksniai - and now it is still the center of potters. Now Zemaitija capital traditionally is regarded Telsiai, any previously known as the capital of Zemaitija was Raseiniai since then there gathered Zemaitija Sejmik ward. Zematija area today covers an area of 21,000 square kilometers. Within this area today assigned territory belonging to the Telsiai, Taurage district, it's a part of Klaipeda, Siauliai and Kaunas counties.
Especially fun lowlanders celebrate Shrove Tuesday - dressed in variuous actors, wearing fright masks and animals masks, visit the neighbors, from the air speculate about the future harvest gathers in the evening burns Mores stuffed animal as a symbol of the difficulties in the winter. And be sure to eat a lot of times, especially in pancakes - that the year would be rich. Special is a festival for children, when they are dressed and go to the neighboring houses and ask for pancakes and sweets.
There are spread languages about zemaiciai that they are very stubborn and loyal. Zemaiciai' "disobedience" led that in XIII-XV centuries old Zemaitija or at least the western half of Lithuania' rulers have been repeatedly transferred to Teutonic Order.
The Lesser Lithuania
Lesser Lithuania concept was first mentioned between 1517 and 1526, now belongs to the majority of the Kaliningrad region, part - Lithuania (Klaipeda Region) and Poland. In a narrow sense there is meaning only the Klaipeda region, located in one of the five current ethno-cultural regions of Lithuania. In the Lesser Lithuania was the first book printed in Lithuanian, the first Lithuanian Bible, the first Lithuanian grammar, there was start and the first Lithuanian language newspaper. The Lesser Lithuania has never been subject to a state of Lithuania and from 1923 only part of it - Klaipeda region - belonged to Lithuania. Currently (since 1945) The Lesser Lithuania land is divided by three countries. Most of it is owned by the Russian Kaliningrad region (excluding the Kaliningrad and the surrounding area), significantly less (from the eighteenth century linguistically polonizated) southeast edge of the part (Geldape district) belongs to Poland and the northern (located on the right bank of the Nemunas), namely, Klaipeda Region - to Republic of Lithuania. For the Lesser Lithuania belongs Klaipeda city and municipality of Neringa and Pagegiai, Silute region - Silute, Rusne, Kintai, Saugai, Juknaiciai, Usenai, Taurage district - Lauksargiai, Jurbarkas - Smalininkai and Viesvile, Klaipeda district - Dovilai, Kretingale, Priekule, Sendvaris. And there also belongs Dauparai - Kvietinai and Aguonenai wards.
Little Lithuania stands with its' unique beauty of nature. This region is one of the most beautiful landscapes of Europe - UNESCO World Heritage masterpiece - the Curonian Spit. Nemunas delta is unique with many islands and old Rusne campus Minija (Minge) village, where the main street location is a river, seaside village of Kintai, Vente horn and Ornithological Station, because through the edges goes this great bird migration tract. There stands the old port manor and Vente horn lighthouse.

Leave a comment
1
Please fill all the required fields.