Sport in Lithuania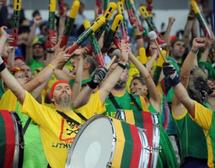 In Lithuania there are cultivated more than a hundred sports. We are glad that being so small (compared to a world-wide) we can boast a good athlete who is famous for our name in various sports. Perhaps for less of Lithuania people, and for the question-what is the most popular sport in Lithuania? The answer is unequivocal - basketball!
Basketball fans in different parts of the world know the name of Lithuania. We not once became the championships and the Olympic medal winners. This sport has become so popular in Lithuania, when in 1937 in Riga and in 1939 in Kaunas, Lithuania became European champions. Being in the Russian occupation, for Lithuanians basketball was more than sport it was a struggle against the Soviet Union. There were fierce fight for the title of champion of the USSR between Kaunas "Zalgiris" and Moscow "CASC". To Kaunas "Zalgiris" succeeded five times to become champions. Seven Lithuanian basketball players representing the USSR have become Olympic champions. Among them, in the American NBA lygue played and for many well-known - Sarunas Marciulionis and Arvydas Sabonis.
During the short basketball history of Lithuanian basketball players of our country (men) was three times Olympic medal winners and in 1992, 1996, 2000, they won a bronze medal. In 2004 and in 2008 remained near the podium - the fourth ... Was three times European champions (1937 in Riga and in Kaunas in 1939 and in Stockholm in 2003), was once the vice-champion (in 1995, Athens), and once won a bronze medal (in 2007, Spain). Won bronze medals at the sixteenth World Basketball Championships (in 2010, Turkey). And the most famous Lithuanian basketball club Kaunas Zalgiris in 1999 became the Euroleague champions.
Lithuania is also very popular in athletics. In the Olympic Games Lithuania athletes have won four gold, five silver and two bronze awards. The most famous of all time Lithuania representative is athletic Virgilijus Alekna. He has win two Olympic gold and one bronze medal at the world championships, two gold and two silver medals at the European athletics championships, one gold, silver and bronze medal, also became a champion of Lithuania. Four times he won a champion of Lithuania title. Also in 2000 magazine "Track and Field News" election V. Alenka is recognized athlete of the year. He was awarded the Lithuanian Grand Duke Gediminas Medal of the Order. In 2005 he became the first elected Lithuanian athletes of the Year. In 2007 on the 23rd of November he got on UNESCO' sports championship name. Lithuania also has another Olympic champion discus thrower - he is Romas Ubartas.
Lithuania has a great selection of modern pentathlete. Modern pentathlon – is an event that is a sport where athletes compete in five events. The program consists of pistol shooting, fencing with the sword, and 200 m freestyle swimming, equestrian and 3 km cross-country race. This is the only sport designed specifically for the Olympic Games. In 2008 Beijing Olympic Games on the podium at one time climbed two Lithuanian pentathlete - won Olympic silver Edwin Krungolcas and Olympic bronze medal - Athens vice-champion Andrei Zadneprovskis. E. Krungolcas in 2008 was selected as the best Lithuanian athlete.
Lithuania is famous for it's strong people and as an evidence is Zydrunas Savickas. Who has a myriad of titles, including "The Worlds' Strongest Man" (2009-2010 years), six times, "Arnold"s Strongest Man" winner (2003-2008),"Fortissimus The Strongest Man on Earth"(2009), world powerlifting champion (in 2005), the European champion (2009), six times the Lithuanian powerlifting champion (1998-2000, 2002, 2004-2005), 10 times the Lithuanian Powerlifting Champion (1995 to 1997 , 1999-2005) and many others. During his career Savickas has improved over 40 world records. Released in 2010 the world's only book about the world's strongest man, Zydrunas Savickas - is a man of iron.
We are proud of remarkable endurance and the name of Lithuania dismatlines stressing the World Champion ultratriatlono Vidmantas Urban. In 1998 he has shown remarkable endurance athlete beating ultratriatlono longest track in the world. He first traveled 76 miles, traveled 3,600 miles by bicycle, and ran 844 miles, while reaching a new world record and winning a world championship title. In 2006 V. Urban was seeking to swim across France and Great Britain separating 33 miles English Channel. However, after having gone half the distance the judges suspended the passage of large waves. Nevertheless, the athlete did not give hand and - in 2007 crossed the Baltic Sea.
Among the name of Lithuania is a stressing of athletes and three-time world aerobatic champion Jurgis Kairys, which resulted in a deadly trick - flying high after the head of the pedestrian bridge, climber - Vladas Vitkauskas - the world's first man raised his flag on each of the top peaks of all continents, sports dance band "The Seagull" that is four times world and five times European champion, canoeing Alvydas Duonėla and Egidijus Balciunas that not once became world and European champions and the most perspective Lithuania tennis player Ricardas Bernakis and other.
Leave a comment
1
Please fill all the required fields.